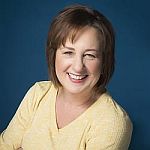 When I met Kathleen Mills, I was looking for something. Not like you lost your car keys looking, but I was putting together an online program for small businesses and I needed just the right client to work with. That turned out to be her.
I have since come to realize that not only is she a very good counselor but she also runs a very tight ship at Life Tree Counseling. This year marks her 22nd year in business which is quite a landmark for any small business.
In the short time I've known her I've seen her business grow from her own hard work and her interest in learning about new ways to grow her practice. She is now an ardent supporter of content marketing, the program she and I implemented well over a year ago, as fundamental to taking any business to the next step and beyond. Her leadership position in the mental health profession continues to bloom as she continues to give back to the mental health community in ways that are not always appreciated as they should be.
The most recent development attesting to her drive and marketing focus is the wave of LPC-Interns wanting to join her practice. Apparently the word is getting around that she, and her growing staff, are doing something right.
Oh, and I would highly recommend her or anyone on her staff (she can afford to pick the best with all those applicants!) should you or someone you know ever need a good counselor.
Happy 22nd Anniversary, Kathleen Mills! You deserve the good things that are yet to come. We're not done yet!