Life Tree Counseling: Heal, Renew, Courage and Strength
When you open the door to the Life Tree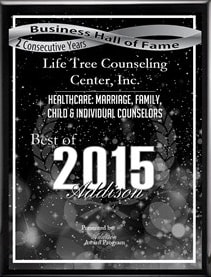 Counseling Center lobby, you may experience relief in escaping the chaos of life and entering a state of serenity.
Our goal as Licensed Professional Counselors is to partner with you so that peaceful state of mind is experienced not only in our comfortable waiting area but also in your daily life. Through the application of proven counseling techniques, your counselor will assist you in addressing the concerns of life: addictions, anxiety, blended family issues, depression, divorce, eating disorders, family conflict, grief, phobias, relationships, self-esteem, school related problems and loss of direction.
Our counselors are trained and experienced in a wide variety of counseling disciplines including marital problems, children's play therapy, drug-abuse counseling, faith-based counseling, ADHD treatments and more. Call us right now at 972-234-6634, or visit our online appointment scheduling system and select your own day and time. We'd love to meet you and see how we can help.
Employee Assistance Program, Insurance and Self Pay
We accept most insurance, and Self-Pay (cash). Kathleen Mills is a Certified Employee Assistance Professional and is a major provider of Employee Assistance Program (EAP) services.
For Interns and Counselors